Via Scoop.it – Activism, society and multiculturalism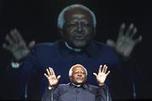 LONDON (AP) — Robyn is turning photographer, for a day. The Swedish pop singer is joining an anti-apartheid icon, a former Irish president and thousands of people around the world in an attempt to capture a day in the life of the planet.
The project – aday.org – is inspired by the "Family of Man," a 1955 exhibition of international photography that became a multi-million-selling book.
Since then, digital technology and the Internet have made millions of people published photographers, and the project's organizers hope to harness many of the estimated 1 billion digital cameras now in the hands of people around the world….